Our speakers for the afternoon conference include:
Amy Smoke
Graduate Student, MSW Indigenous Field of Study, WLU
Twitter: @amysmoke1
Amy Smoke is Mohawk Nation, Turtle Clan from the Six Nations of the Grand River. She is a mature student, mother, public speaker, singer, and active community member. She received a BA in Social Development Studies and then a Bachelor of Social Work from University of Waterloo, and is currently a graduate student at Wilfrid Laurier University in the Masters of Social Work-Indigenous Field of Study program, with her practicum placement at MPP Laura Mae Lindo's office. She also spent a year with the Waterloo Indigenous Student Centre as the Events Coordinator. She sits on various Indigenous Advisory Circles in Waterloo Region and is also one of the founding members of the local First Nations drum group, The Blue Sky Singers. Amy has worked hard to overcome the intergenerational trauma from residential schools in her family and now shares her experiences with other students. Her culture has been her lifeline and she is determined to pass this on to her two daughters.
Karen Schulman Dupuis
Business Designer. Speaker. Shift Disturber.
Twitter: @karensd
Instagram: @karensd
Karen Schulman Dupuis, widely known as KSD, is a shift disturber. Oftentimes called a 'force of nature', KSD speaks truth to power. She wants to help 20-year-old women find their 40-year-old voice, and help 40+-year-old women embrace their power. Professionally, KSD is a Business Designer, speaker, and community builder. You can find more about her at www.karensd.ca.
Violet Umanetz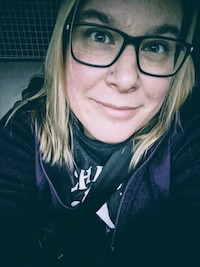 Manager of Outreach, Education & Prevention, Sanguen Health Centre
Twitter: @SanguenHepC
Violet Umanetz has been managing outreach, education, and prevention services at Sanguen Health Centre since 2011, including The Community Health Van – Waterloo Region outreach unit, which has been running a few days a week since 2015 & provides snacks and drinks, clothing, hygiene supplies, referrals to community agencies, a social worker giving supportive counselling, testing for Hepatitis C, HIV, & more, nursing services, harm reduction supplies, pick-ups for filled sharps containers, and Naloxone kits along with overdose prevention training – it's like a drop-in program on wheels: http://sanguen.com/outreach-program/mobile-van-outreach/
Operating within a harm reduction framework, Violet and her team work directly with people in our community who use drugs to improve health outcomes, foster social inclusion, and eliminate stigma. Violet loves to talk about drugs: who uses them, and why; the impact of drugs on our community; why people don't stop taking drugs even when things get bad; what happens when quality drug education is provided to youth; and why she's surprised that more people don't use methamphetamine. (She is either the best, or the worst, person to invite to a dinner party.)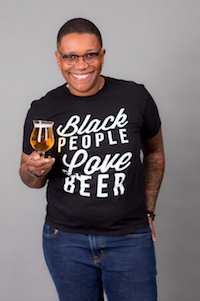 Ren Navarro
Beer. Diversity.
Twitter: @beer_diversity
Instagram: @beer_diversity
You would be hard-pressed to find someone in the Ontario beer industry who doesn't know and love Ren Navarro. For over six years she has been regarded as one of the most respected members in the industry, spending much of her time in the field as a sales representative for renowned and award-winning breweries like Redline Brewhouse, Woodhouse Brewing Co., Great Lakes Brewery, Descendants Beer & Beverage Co., and Kensington Brewing Co. Ren is no stranger to public speaking and has appeared frequently at tasting events, dinners, and talks informing and entertaining people through her love of craft beer.
Alongside her fervent love of the craft beer world is her determination to bring it to a more diverse audience. An outspoken critic of the old notion that beer is a drink primarily for white dudes, Navarro is on the frontlines to initiate change both in and out of the industry. Of note she is co-founder of the famous Society of Beer Drinking Ladies, a Toronto-based monthly beer event that provides a safe and relaxing atmosphere for female-identified people. Additionally, using her perspective as a queer black woman within the industry, she has talked extensively about diversity in craft beer as a regular speaker at the annual Queen of Craft events in Guelph along with constant appearances in various forms of media, from podcasts, television and radio shows to newspapers.
With her extensive knowledge of craft beer, passionate drive, and hilarious wit, Ren Navarro is here to educate, enlighten, and make craft beer approachable for a more diverse audience.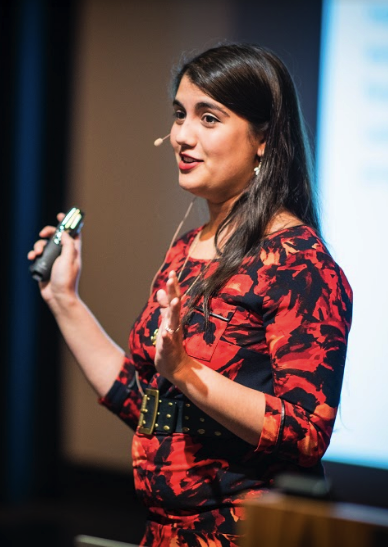 Samantha Estoesta
Outreach Manager at TD Lab, TD Bank's Innovation Lab
Twitter: @smoestoe
Instagram: @smoestoe
Samantha Estoesta (she/her) is a multiple-published poet and long time #WomenInSTEM advocate. With an MA in Intercultural Communications and almost ten years in advocacy, communications, community development, community engagement, digital communications, digital design, and social media strategy, she centres her efforts on growing communities through reciprocal relationships. When she's not talking about being a brown female in tech, she can be found around town sharing her words, organizing others' lives (semi-professionally!) or watching terrible Netflix shows.
Mona Mousa
Spoken Word Poet & Teaching Artist 
Twitter: @monafaithmousa
Instagram: @grl.friday
Mona Mousa is a spoken word poet, community organizer, and activist, who over the past 12 years of her poetry career has shown herself to be a force of positive change and a champion for social justice and community. She has worked tirelessly to make space for the voices of poets who come from marginalized and often invisible identity groups, through the founding of Feather and Anchor, a talent agency that exclusively represents works of LBTQ & Poets of colour.
She'll often say "it's a political statement just to leave home some days", but if her work is indicative of anything, it's of a person who has seen a world of pain love and growth, who writes, performs, and navigates the world in a way that is indicative of a mission to find justice for marginalized bodies.
Paulina Cisneros
Career Advisor, University of Waterloo
Newcomers to Canada Specialist | Local Arts/Culture Champion

Paulina Cisneros is a career advisor at the University of Waterloo. Her previous work in human resources and as an employment counsellor with immigrants and refugees has led her to become an advocate for equity and inclusion in hiring practices and workplaces. She currently sits on the Board of Directors for the Kitchener-Waterloo Multicultural Centre and stays actively involved with the Immigration Partnership. In her spare time, you can catch her DJing at Jane Bond and Arabella Park.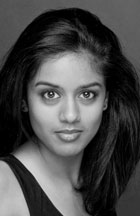 Pam Patel
Artistic Director, The MT Space
Twitter: @PamMTSpace
Instagram: @themtspace
Pam Patel is the Artistic Director of MT Space (July 2016 – present), the first and only multicultural theatre company in Waterloo Region. She was Associate Artistic Director (2015-2016) and has been an Artistic Associate at MT Space since 2009. The MT Space "continues to fulfill its mandate by creating, producing and presenting high quality artistic performances and cultural events reflective of the people who live in the area." They work to create "forms and practices that speak to, draw upon, reflect, and constitute Canadian contemporary community."
As an actor and artistic associate of the MT Space, Pam Patel has toured nationally to cities including Montreal, Toronto, Edmonton, Vancouver, and Victoria, and has travelled overseas to perform in Jordan, Syria and Lebanon.
A graduate of Wilfrid Laurier University's music program, Pam has acquired a special focus in improvisation, both music and physical theatre. While attending the Vancouver Creative Music Institute, Pam collaborated with pioneers of improvised music, such as Evan Parker and Barry Guy, and showcased her talents at the Vancouver International Jazz Festival.
Click here for our evening speakers at Focus Forward.